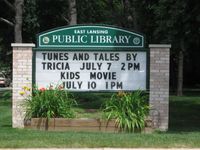 I travel to libraries all over Michigan and participate in the summer theme each year for the Michigan Reading Program across the state. For 2023 the theme will be "All Together Now" Can't think of anything more inspiring  for Tunes and Tales! Such a great way to get kids to read and interact with books and the world around us...  I use participatory programs to engage kids in songs that tell a story as well as storytelling  that utilizes music.  Adding music or chants  to tell well known AND lesser known tales can be a great way to spark the imagination of young and not so young! Whether the program is indoors, outdoors, or virtual, it will be a great year for stories!
I would be very excited to come to your school, center, individual classroom to perform a one-of-a-kind program right on site. I have a number of themes that I work with, including  making friends, music and movement, and reading, but I am happy to work with your curriculum as well. Whether on site or as a virtual visitor, I can tailor a program to meet the needs of your early learners.
With  30 years of classroom experience, your staff can relax and know that their kids are in the hands of an experienced educator who will educate, entertain, and engage their students for the duration of my visit. All programs are interactive enough to get the kids dancing, singing, and shaking along . Win/win! Everyone has a great time learning! 
I aim to add texture and enjoyment to your event... family style!  I can bring along my own sound, and I can work with or without electricity.   With a bag full of musical instruments and props, I love to get the audience involved and the results are whimsical, fun and  sometimes even unpredictably outrageous !
Virtual Family nights available on request.