"

Tricia's perfomance was just wonderful. Adults as well as children enjoyed it. Time went too fast."
— Linda Keeler, Tamarack District Library
"The kids loved your show!  They all were telling their parents how they got to sing and dance as soon as they got picked up. We will definitely be in touch again for next summer!" 
  Kristen, director, Childtime, Kentwood Grand Rapids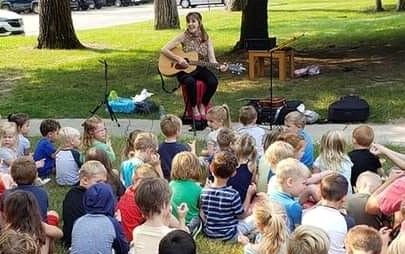 So you want to hire an educational entertainer for a family or kids event...? Do you need someone who can provide online interactive engagement for your young learners?  We are here to help!
Hello!
My name is Tricia! I am hoping that Tunes and Tales by Tricia  will be the PERFECT answer for your instructional/performance needs for kids and the families who love them.
I have been working with kids as an early childhood specialist all of my adult life, both as a classroom teacher and as a traveling musician and I LOVE what I do! 
After leaving the classroom as a full time teacher, I began doing interactive programming for childcare centers, libraries, schools, festivals.... pretty much everywhere kids are growing!! These events can be held outdoors, indoors, online...you choose!  It is all for the kids!
Please contact me for questions you have on the kind of programs available, how we decide on pricing, anything you need. I will get back with you ASAP.
   OR CALL  517 285 1231
                                              www.facebook.com/tunesandtalesbytricia
Or Continue to our contact Page for more information

"My kids enjoyed your music greatly and said, 'this is way better than watching a movie!' I hope I will be able to book you next summer!"

Maiya Merrick

Arts and Events Coordinator
City of Hastings MI