"

Tricia's perfomance was just wonderful. Adults as well as children enjoyed it. Time went too fast."
— Linda Keeler, Tamarack District Library
"The kids loved your show!  They all were telling their parents how they got to sing and dance as soon as they got picked up. We will definitely be in touch again for next summer!"    Kristen, director, Childtime, Kentwood Grand Rapids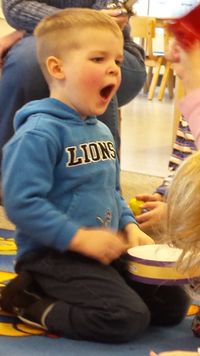 So you want to hire an educational entertainer for a family or kids event...? Do you need someone who can provide online interactive engagement for your young learners?  We are here to help!

Tunes and Tales by Tricia is the perfect answer for your instructional performance needs for kids and families.  As a classroom teacher, Tricia kept her guitar and puppets in her classroom as teaching tools because it was a natural and fun way to create an educational environment. Tunes n Tales by Tricia just seemed like the logical encore profession!
After leaving the classroom Tricia began traveling throughout Michigan and neighboring states to provide exciting, interactive, family entertainment to child care centers, libraries, schools, pediatric units, festivals and family events of all kinds.
 
Now, in the era of Covid 19, since events are planned with family and child safety in mind at all times, Tricia has once again adjusted to the new way of doing things in accordance with the best possible practices for kids and the families who love them.  Events can be at your location, or appearances can be planned online with no physical contact. We are happy to make adjustments made to accommodate your particular event, theme, or childcare location. 

        Contact Tricia with questions and she will get back with you as soon as possible. 
   OR CALL  517 285 1231   www.facebook.com/tunesandtalesbytricia 
                                          
Or Continue to our contact Page for more information

"My kids enjoyed your music greatly and said, 'this is way better than watching a movie!' I hope I will be able to book you next summer!"

Maiya Merrick

Arts and Events Coordinator
City of Hastings MI
"

Tricia engaged both the parents and the children. Even before the show started, she had 'Miss Peeper', the peeper puppet out and was entertaining the kids as they waited for everyone to arrive. It was fun to see the children giggling as having fun throughout her show."
— Heather Surface, City of East Lansing Community Events Specialist