---
Want an educational program that will delight the kids and the staff will love?
 
As a former classroom  educator with 30 + years of experience I can happily do programs such as family night concerts,  pre school graduations, holiday shows, and many other festivals and events.  Call  or email for ideas and suggestions! 
Since Covid 19 has been part of our recent reality, I have been engaged in doing virtual concerts through You tube and Facebook LIVE. When I do in person programs indoors, I can wear a shield or mask, depending on protocol of the event planner.  I am vaccinated, boosted,  and excited to enter the buildings where you work to serve kids and families as soon as it is deemed safe and ready. 
I would also be happy to work with you and your school/library to produce a program using ZOOM or other technology that will keep our kids engaged in the music / literacy connection as well.  Please contact me through our contact page or just send a quick email or pick up the phone.  I would welcome your ideas.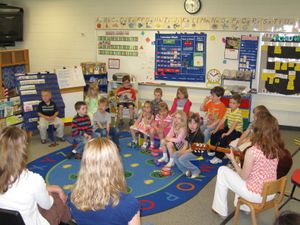 517 285 1231

If you need fee information, feel free to fill out the  contact form, call me, or just shoot me an email at : tunesntales54@gmail.com .  Details are determined by the size of the venue, the number of students, and whether we are outdoors or virtually. I love the flexibility. 
I am listed in the  Michigan Arts and Humanities Touring Directory. michigan arts and humanities touring directory. I am listed under "Theatre for Young Audiences." There are scholarships available through that website.