---
Want an educational program that will enchant the kids and delight the staff?
 
As a former classroom  educator with 30 + years of experience I can happily do events such as family night concerts,  pre school graduations, holiday shows, and many other festivals and /or programs.  Call  or email for ideas and suggestions. 
Flexibility is key whenever you work with families and children's programming.   Please contact me for whatever you have in mind and I am happy to work with your ideas and learning opportunities for kids and the grown ups who love them.
tunesntales54@gmail.com    517 285 1231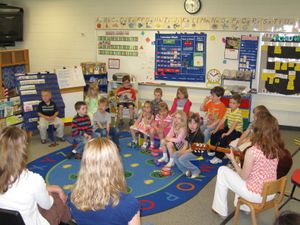 517 285 1231

If you need fee information, feel free to fill out the  contact form, call me, or just shoot me an email at : tunesntales54@gmail.com . 
Details are determined by the size of the venue, the number of students, and whether we are outdoors or indoors . I love the flexibility. 
I am also listed in Gig Salad. You can find me under Tunes and Tales by Tricia.